Haaa... Yup! I am the ex-boy of the famous Royal Military College, Kuala Lumpur. There is only a few schools in the world like the RMC.The name Royal Military College, one would have imagine the life in a military school... all the drills, push ups, ragging etc. etc. Yup! life is tough being in a military school. Hey! If the rest of the Old Putera (OP) can do it, so can I...
My life in the first few months was really tough... life was like hell to me... Well, a man made hell. Life is not like in any other ordinary school, life in RMC teaches one to be brave, patience and strong, physically and mentally. After that few months, life is beginning to be fun for me... Where else in the world would you have the opportunity to learn various survival skills essential for you.
The college motto 'Serve to Lead' makes you understand that this college is training you to be a leader, a leader in any fields, a leader in many fields...
I never knew how valuable it is, the knowledge that I got from RMC until I left the college. This college has taught me how to survive in the true outside world... cool ehh! Many students are jealous of RMC students. This is the truth and I don't know why. But you know, I'm sure your school is famous too and cool... I'm proud of my school, so you should too...
Link to the Unofficial Homepage of Royal Military College Kuala Lumpur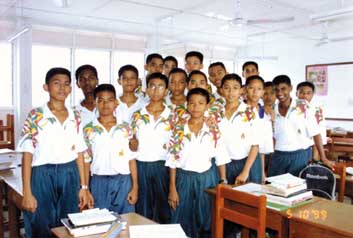 The Boys Wing of Royal Military College is divided into 8 companies... Alpha, Bravo, Charlie, Delta, Eagle, Foxtrot, Golf and Hotel. These are the members of my company, Delta Company...

SUO Tengku Ahmad Ruzhuar Tengku Ali Website
JUO Chua Hing Yuen
JUO Azrie Tamjis
J UO Fauzan Hisham Shukor email
JUO Mohd Rafiee Kamaruddin
SP Faris Ismail email
SP Farouk Khalid email
SP Khairul Anuar Abdul Wahab
SP Hazizi
SP Norazlan Baharom Website
SP Nik Faizal Nik Lah
SP Saharudin Mohd Yusoff Website
SP Saifullizan Khalid
SP Syahrulnizam Abdullah