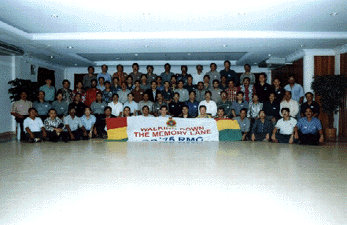 ---
---
OP GALLERY
---
---
OP SITES
---
---
OTHER OP SITES
---
---
A word of Thanks
---
We would like to thank everyone who helped us gather the
information to make this site possible. Special Thanks to OP Shahrum Ahmad who contributed the most and OP Nasir for sending the latest images.Serve to Lead.
---

FYI, our egroup moderator (op shahrum) has requested that we post more images of op 1975, thus we are counting on the rest of you guys to send us images or picts of our class of 75. You could attach the picts while posting messages in the egroups or have it mailed as an attachment to our email at putera75@egroups.com. It is even better if the images is already in the net, just provide us the URL and we'll have it posted in the gallery in a jiffy.

Make this site more interactive. Please submit your contributions or comments through our Egroup mail at Putera1975@egroups.com.


If you want your page linked from here please request through our egroups listings.

Last Updated : Sep 2000
---
Page designed and maintained by OPA Class of 75 Webmasters.